In-depth analytical capacity.
Understand the messages your business is sending you.
Know the business better than anyone. Effortlessly access a series of dashboards offering structured analyses that tell you how your business is performing.
Access to a series of ready-to-use dashboards that provide you with detailed information on your business's performance. Understand the subliminal messages hidden behind the numbers, with the support of the analyses provided. Dictate trends. Stay one step ahead of the competition.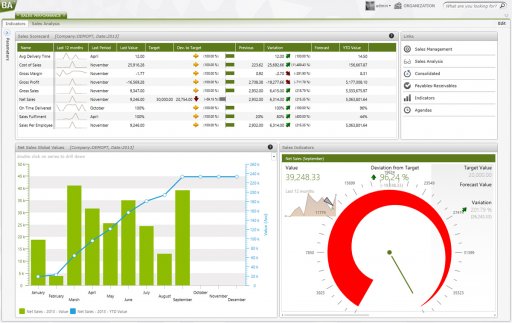 Ensure financial balance.
Rapidly access sound information about cash flow.
Optimise financial management. Get to know in detail and in real time the cash availabilities and financial responsibilities of your company.
Access dashboardswhich allow you to analyse payments and receipts from various perspectives. Find out exactly which amounts are payable and receivable, the amounts in credit and other accounting and financial data impacting business management.