Greater speed.
Creating customer and supplier files is a thing of the past.
The PRIMAVERA Professional technical platform is a veritable driving force for your business.
It is synchronised with the largest worldwide business information network in Portugal – the Informa D&B database –, with daily updates of company registrations and statuses (active, insolvent, etc.).
This means that all you have to do is input the relevant taxpayer number and the system automatically fills in the appropriate file: customer, supplier or other entities.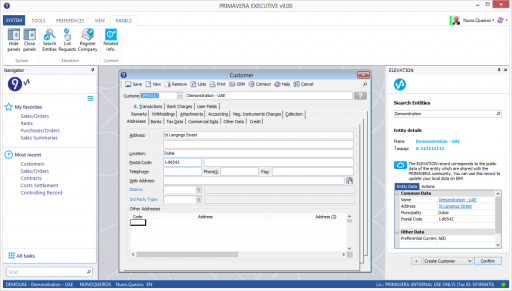 Greater efficiency.
Fast operations and rigorous information.
Easily locate the information you need to help you conduct your business. Thanks to the Information Panels generated by its interactive technology, the solution automatically provides you with data that speed up whatever action is being carried out.  
Let's say, for example, you are working on a quote. The system immediately displays a panel showing relevant information about the customer in question: turnover, commercial conditions, invoicing history and anything else that is deemed pertinent. The information you need is always on hand.