In-depth analytical capacity.
Stay one step ahead of the competition. Understand the messages your business is sending you.
Know the business better than anyone. Effortlessly access a series of dashboards offering structured analyses that tell you how your business is performing.
The Business Analytics solution gives you access to a series of ready-to-use dashboards that provide you with detailed information on your business's performance. Understand the subliminal messages hidden behind the numbers, with the support of the analyses provided.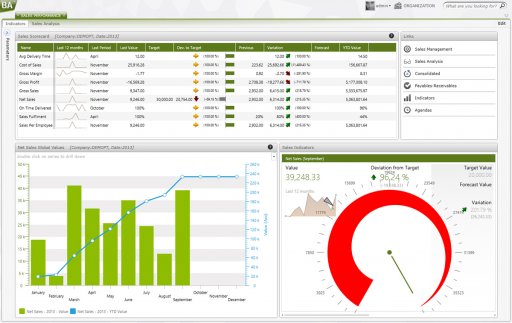 Information always accessible.
Benefit from the Cloud in complete security.
Access PRIMAVERA products and services in the Cloud quickly and securely with the ERP. The technological platform integrates the information in the Cloud with the management system, giving you maximum accessibility to the data you need. And it's completely secure; your data are stored on your company's servers.
As a result, operations are faster. And the information is more reliable. For example, when you input an order in the system, the solution checks the taxpayer number and automatically integrates information about changes in the customer's status (e.g. rating, bankruptcy, change of address, etc.).